This post contains affiliate links. This means I may receive a small commission should you choose to purchase through one of my links. I only recommend products and services I personally use, like, know and trust.
If you're reading this post you are probably trying to navigate how to start a blog, simply, as a part of your personal brand. You're smart to do so!
A blog allows you to connect with like-minded women, monetize your message from home, & build your capacity for influence/impact on a platform you own – versus building your brand/influence solely on social media. You're spending all that time creating content – it should be discoverable to the world outside of and dependent upon the algorithms of Facebook or Instagram!!
In this post, I'll walk you through things to think through and have in place before you start a blog, as well as a step-by-step how-to to get you ready to launch it!
My blogging journey.
I launched my first monetized blog while I was on maternity leave in the spring of 2016. I wanted a place where I could share things I was learning, using and doing to navigate my new role as Mama with other new moms, and to start something I could build upon as an additional stream of income.
After returning to work as a School District Administrator for one year, and building my blog/brand during that time as well (it IS possible to do while working full-time and with a newborn!), I transitioned into the Stay At Home Mompreneur lifestyle and have continued to grow my brand to create a multi-stream six-figure income online.
Now I am passionate about teaching others to create multiple streams of impact and income online through a magnetic personal brand – with your blog as the hub!
Is it complicated to start a blog?
It's really not, I promise.
Trust me, I knew nothing about any of this tech stuff when I started mine (still not super techy to this day!!), and was able to start a blog with SiteGround in under 15 minutes.
Just take things step by step and keep your "why" in mind. Your why is the reason you've decided that you want to share your heart, knowledge, and content on a blog in the first place.
How do you monetize a blog?
There are many ways to monetize your blog. Six of the most common ways to make money with a blog are:
Advertising

Affiliate Marketing (could include Network Marketing/Social Retail depending upon company business model and marketing)

Sponsored Posts

Sell an info product

Creating a physical or downloadable product

Referral Credit
What do you need to consider before you start a blog?
What is your brand?
YOU are your brand. Your brand sets you apart from your competition and allows you to create multiple streams of income. Your brand attracts YOUR TRIBE because you're being authentically YOU. To keep it simple, your brand is the 3-5 things that you will create content around on your blog – the things that will put you on the map in the blogging/influencer space!
It doesn't mean there aren't a thousand other things that make you uniquely you, but you have to narrow it down to which areas you can provide the most value for OTHERs in that you'll also enjoy continuing to create content around.
For example, for Taylor-made Mama (my first blog) my brand pillars are: Organization/Checklists, Personal Mom Life-related Storytelling to connect/encourage/inspire my readers, and First Time Mom Advice (including things I use/buy/love/do that I think will enrich other mama's lives).
What do you want your blog to be the go-to space for? What are the 2-3 topics you'd like to create content around?
If you would like to take a deeper dive into developing your personal brand, I've created a powerful free Personal Branding Course and workbook for you to walk you through the process. Enter your name and email below and you'll receive the video course via email over the next several day!
What is your niche?
A niche is a specific group of people with common interests that you know, understand & can speak/provide value to. Your niche will become your tribe, and your goal is to turn them into raving fans that will read/share/buy whatever it is you're putting out there because you've established their trust for and liking of YOU!
Here are some questions to help guide you in determining the specific niche your blog will serve:
What are you passionate about? Who can YOU best relate to?
What problem/s can you solve for others? What are their needs, wants, and desires? Are people asking questions about what you want to share (is there a need for your content)?
I cover all of this in greater depth in my Free Facebook community, Elevate Academy. This group is a place for female online entrepreneurs who are building influential personal brands around their message, incorporating network marketing as a complementary asset.
Choose your blogging platform.
There are several popular platforms such as Blogger, Square Space or WordPress.org. Back in the day, I had a blog on Blog Spot (wouldn't recommend for what you want to do with your blog!).
WordPress.org is what almost every professional blogger uses. This is the platform your website actually runs on. It's not to be confused with WordPress.com (a similarly named free blogging platform). Free platforms should only be used if you are strictly blogging for fun.
If you want to make money blogging, you NEED to have your own domain name and web hosting.
But don't worry, setting up your domain name and web hosting is easy. I promise you don't have to be tech-savvy at all in order to do this!
I much prefer and highly recommend WordPress.org sites, with SiteGround hosting. Hosting is access to the server that will run your blog. Siteground hosting makes it super easy to get started and maintain your site. Their support is literally 24/7, and you can speak with them via phone or in an online chat.
Choose your domain name.
You could choose your first and last name, or something clever and easy to remember that represents what your blog is all about and will resonate with your readers.
When in doubt, use your first and last name – sets you up to be able to pivot and also not pigeonhole yourself right away to a particular niche as you're working through your creative ideas!
Once you have your domain name idea/ideas, check to make sure it's available and that it's not astronomically expensive (Go Daddy is a great website for this!).
Now, you're ready to start a blog, simply, with SiteGround and WordPress.org!
STEP 1 – Choose your plan: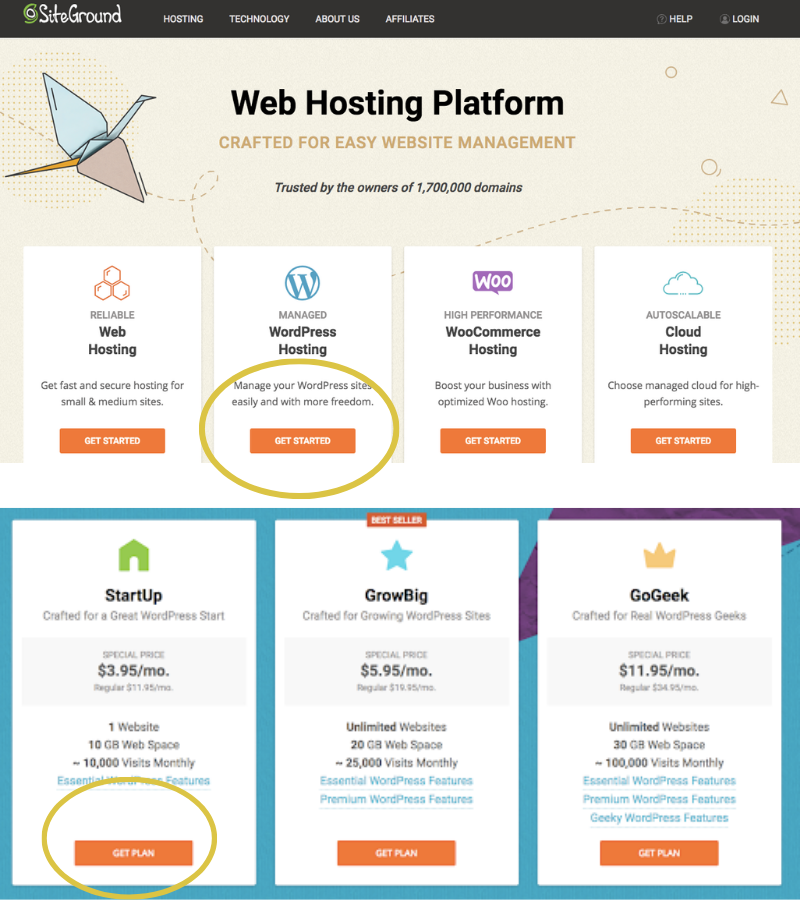 STEP 2 – Choose and Register your domain name and click on Register a New Domain, unless you already have a domain – then click "I already have a Domain":

(I'm so stoked for you right now!)
STEP 3 – Enter your information: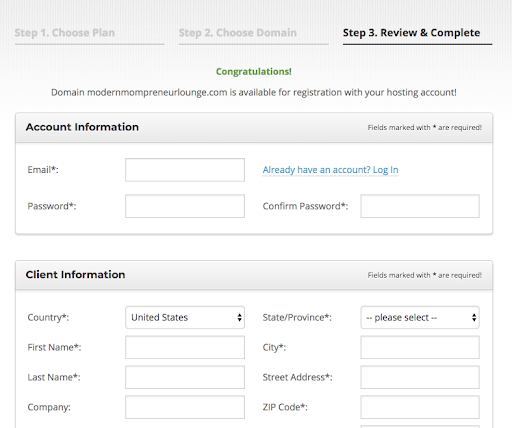 STEP 4 – Select Domain Registration and Domain Privacy fees. Personally, I register with all three of the following: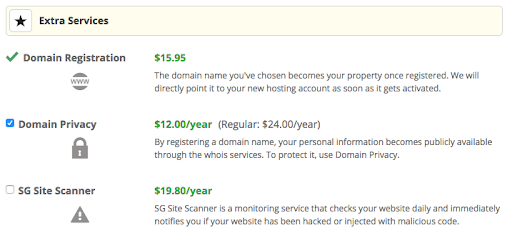 STEP 5 – Start a new website and set up your Siteground hosting account
Yassss! You officially have hosting up for your blog.
Next you need to install WordPress.
STEP 6 – Go to "My Accounts" then "Manage Account", then "Go to cPanel" (red button).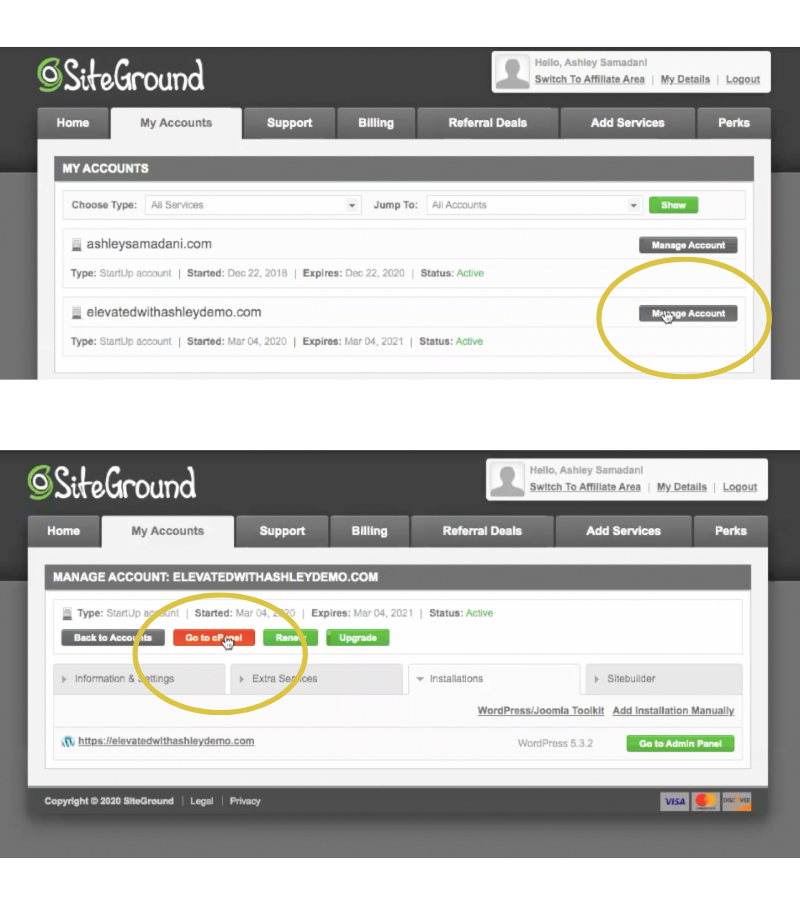 Launch the Set Up Wizard, click on "Start a new website," enter your WordPress login info, confirm and complete set up!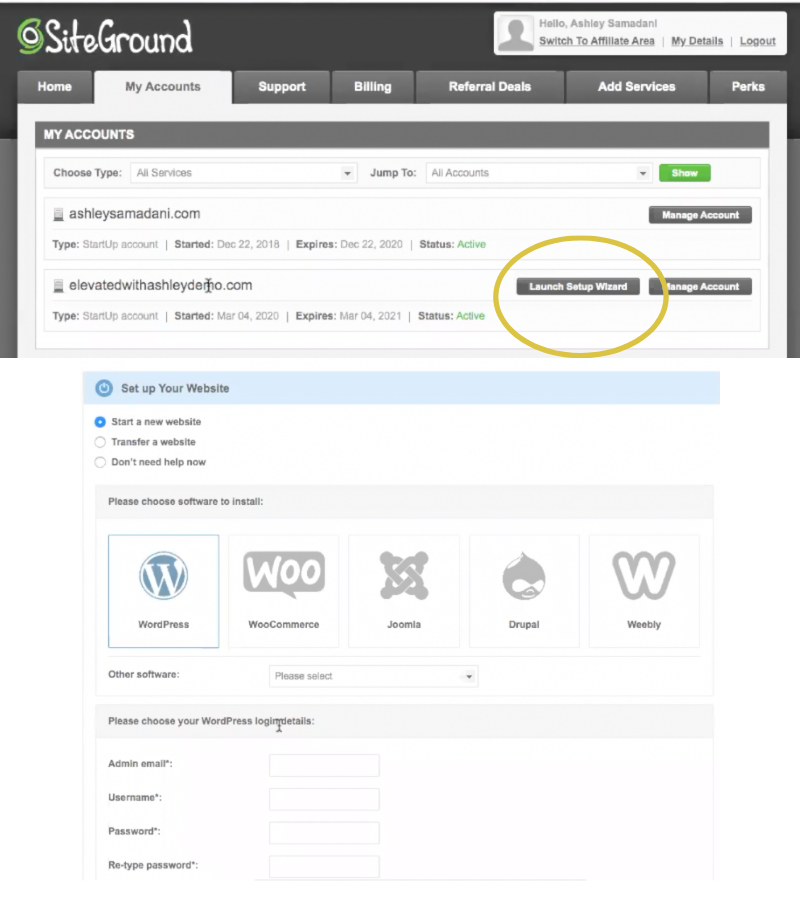 STEP 7 – Click on "WordPress" in the Autoinstallers section.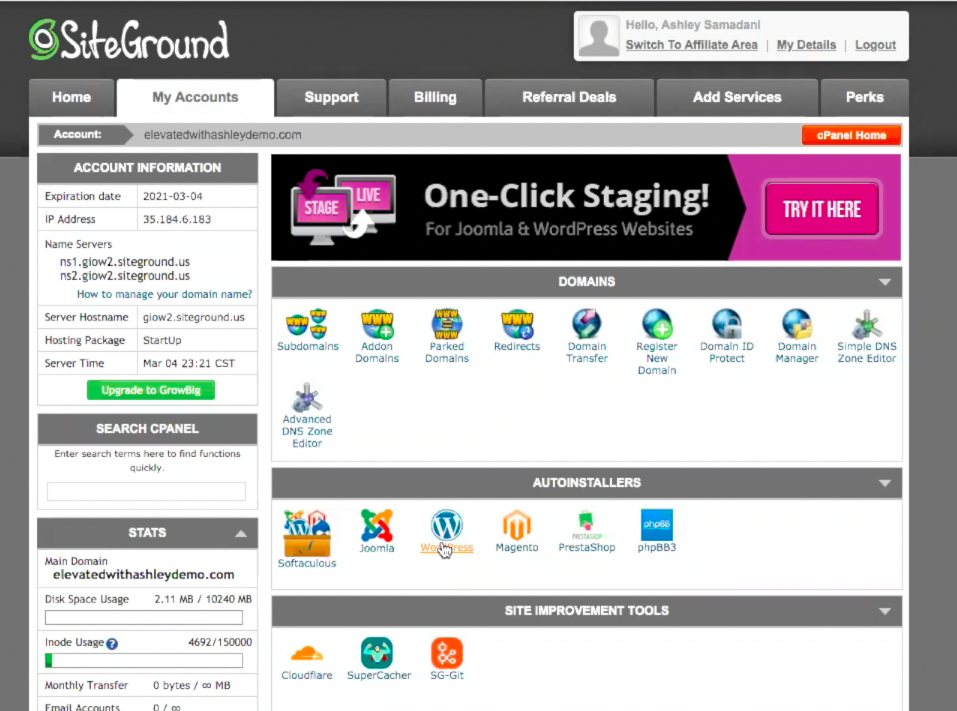 Now, click on the blue Install button.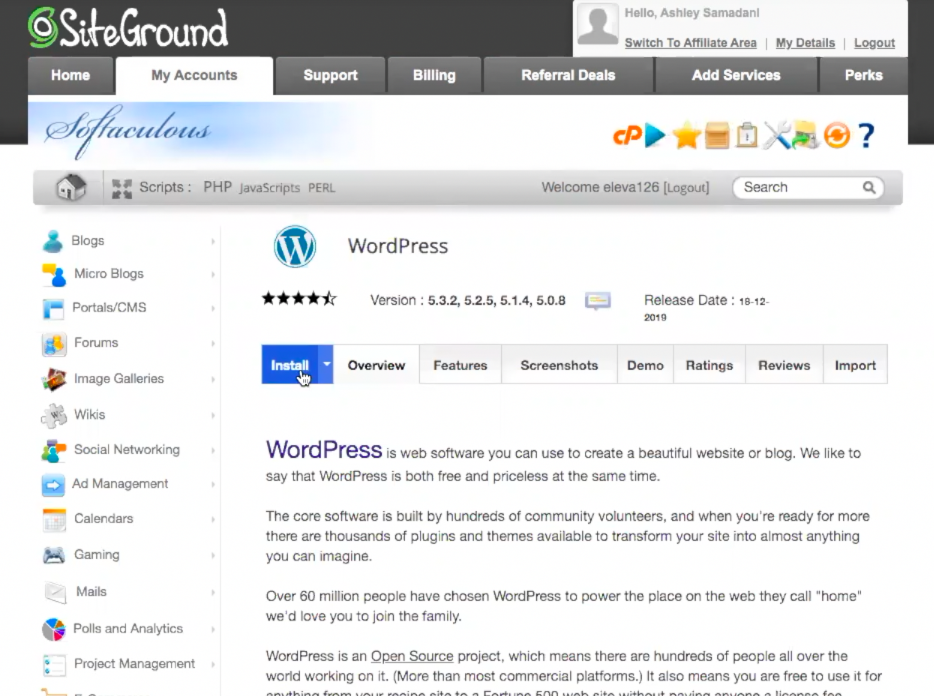 After install, fill in the information in the next screen (see below).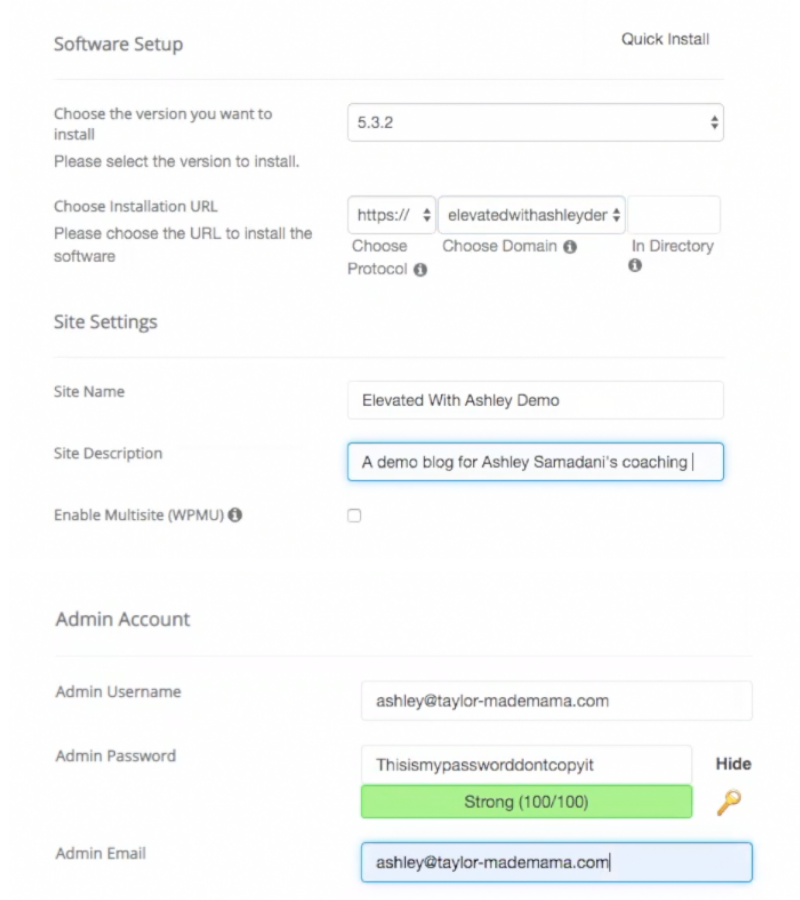 Choose Protocol: generally keep it the same (http:// or https if your site has SSL – recommended)
Choose Domain: choose your domain name from the choices in the drop-down menu but, most likely the first choice you see is the one you want.
Site Name: The name of your blog.
Site Description: You can change this later or leave it blank, but it's a short description of what your site is all about. It will show up in Google searches.
Admin Username: This will be the name you use to log into your WordPress blog (or you can always use email address here)
Admin Password: This is the password to access your WordPress backend (your blog's dashboard). Choose a strong, but easy-to-remember, password.
Admin email: Enter your email address
Choose Theme: I recommend installing a theme once you're in the backend/dashboard of your blog (see below)
Click "Install"and YEAY – you officially have a blog!!
Now, you can now log in with your username (or email) and password, and access your dashboard by adding "/wp-admin" to the end of your domain: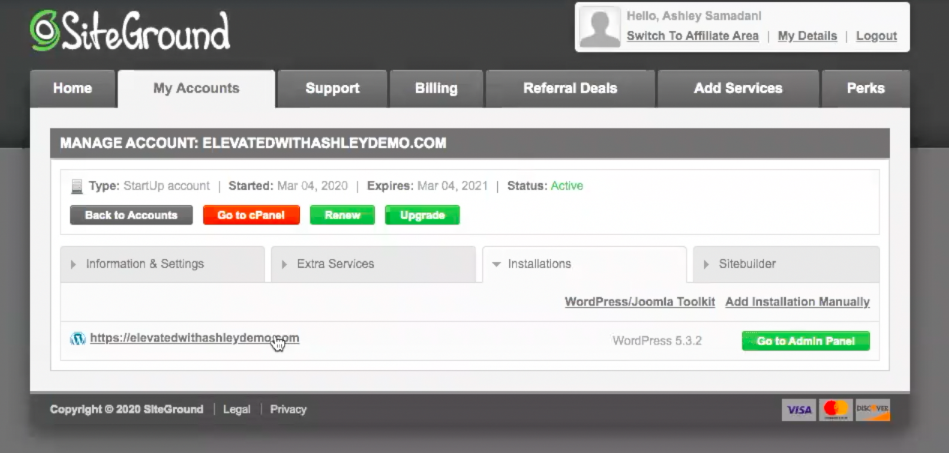 *Make sure to confirm your domain name through the validation email you will receive within 15 days!
Selecting Your Theme
You'll need to choose or purchase a theme. Think of your theme as the exterior to your house – you want it to have curb appeal!! I purchased mine through the fabulously talented Tiffany of Beautiful Dawn Designs. Simple, professional, stylish, easy to navigate, mobile responsive design, and lend nicely to a variety of lifestyle/creative blog content. Taylor-mademama.com is the Elegance Theme. You can upload purchased themes to your blog through your dashboard.
How excited are you right now to get started?!
I recommend you have 5 anchor posts written prior to launching your blog – with at least one from each of your brand categories (if you are working through my Influence, Impact & Income Academy, these posts will be part of your assignments throughout the 12 Week program!).
Next, you'll obviously need to tackle your content creation and promotion, traffic generation, audience nurture, marketing, and monetization strategies.
To help you get started, I have a blog post checklist to send to you if you've used one of the links in this post to set up your blog through Siteground. This will be your one page, printable guide to all the necessary elements of a killer, discoverable blog post and post-publish promotion!
Simply forward or screenshot and email your Siteground receipt to hello@ashleysamadani.com and I'll reply with your Blog Post Checklist.
I am so excited to see the impact you create through your unique message as you start a blog to grow your brand!
Cheers to your impact,
Ashley
---
If you are partnered with a Network Marketing or Social Retail company/brand and would like more information on the 12 Week Live coaching program (this is NOT a packaged course!!) where I walk you through building the exact framework that's allowed me to create a multi-stream six-figure income online, while building a top 1% network marketing biz as a complementary asset to my personal brand (not my end all be all!), since I've been at home with my daughter … enter your email HERE, or in the form below and I'll send you some info to review via email.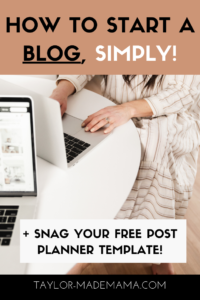 If you want to integrate and build your network marketing business with automation/authenticity/searchability, and without pigeonholing yourself or sacrificing your personal brand….the Influence, Impact & Income program was designed for YOU!